1955 WILLYS MD-A , M170 Front Line Ambulance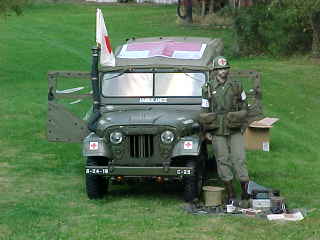 Restoration by David Pizzoferrato, Pizzoferrato Enterprises, Richmond Ohio
Canvas, Seats, and Webbing by Pizzoferrato Ent./Weebee Webbing
---
*Military Vehicle Preservation Association*
"BEST of SHOW" Award Winner, 2000 Convention, Kansas City, Missouri
---
AWARD WINNING COMMITMENT TO QUALITY
We are often asked "What sets you apart from other Canvas providers?"
As a means to illustrate an appropriate response, we undertook the M170 Restoration Project in order to showcase our commitment to Quality Craftsmanship. Drawing on our 25 years of Military Vehicle restoration experience, we set out to restore this vehicle to the Standard achieved. Our Award Winning Commitment to Quality and Level of Dedication are exemplified in every item that we produce. As our business is a two person (David and Donna Pizzoferrato) operation, we do not utilize Job Shop or Production Line assembly methods. Our "Hands On" approach insures "Consistent Quality Craftsmanship and Individual Attention to Detail" throughout the assembly process.
You can be assured, that each work that we produce, is truly "Personally and Individually Handcrafted".
---
Below are images of our M170 showing details of restoration. Feel free to use these images in any way to help with your own restoration efforts. The images begin with views of our M170 as it was being prepared to be loaded to transport it to the Army Medical Department Museum at Fort Sam Houston, San Antonio Texas. I tried to show all aspects of engine compartment, interior and exterior views of body and equipment. Later images show the vehicle loaded and shrink wrapped prior to departure, and handling and placement into the Museum. Final images are shots of other Museum assets.The majority of these images are linked to the Full Resolution Image (Left click to load Full Image, Right Click on Full Image to Save).