Quality Assurance from David and Donna Pizzoferrato
Dear Friend,
Before you proceed to the Products page, we'd like you to know a little bit about us, our history, our philosophy, the way we do business, and why you should consider us in your quest for reproduction canvas products...
HISTORY
Our involvement in owning and restoring Historic Military Vehicles goes back to 1975. Like every other "hands on" restorer in the early days of this hobby, we endured the parts acquisition gauntlet. Through our involvement in the Military Surplus business, we found an early need for industrial sewing machines in order to repair and modify items for resale. As we had the ability to carry out industrial sewing projects and had small quantities of original surplus canvas, hardware and webbing on hand, it only seemed natural that we produce our own Canvas and Webbing items for our use in our Military Vehicle restoration projects.
In 1986, through our involvement in a major surplus liquidation deal, we recognized a need and outlet for military and vehicle related webbing and hardware. We were now able to produce military rifle slings and vehicular webbing products for resale. At the time, our specialty was M1 carbine slings, M16 rifle slings, M1 Garand slings, and webbing for vehicles; hence the name "WEEBEE WEBBING".
As we continued our restoration efforts and became actively involved in Military Vehicle Shows and Swap Meet events, word spread about the products we were turning out and service we could offer. As our product line developed and the good word spread, we found our business growing and evolving into it's current state.We still produce our earliest staple of weapons-related webbing on a limited basis, as well as military vehicle canvas products and a wide array of military style bags and pouches.
OUR PHILOSOPHY
Somebody once said, "Do one thing, but do it the best."
We do Mil-Spec webbing and canvas... Period.
We don't stock engine parts, tires, brake shoes, steering wheels, or fuzzy dice. We are not in the MV Parts business.
Donna and I specialize in producing the most faithful reproduction canvas and webbing products that we can. All of our canvas, fabric, and webbing products are personally and individually hand crafted using Mil-Spec materials and approved construction methods. We strive for perfection on every item that we produce, paying close attention to detail in order to match the construction and quality of the original items. We are of the firm belief that there is no room for compromise or shortcuts in quality craftsmanship. As the original equipment was of top quality construction, you should expect and accept no less for your restoration. We are quite proud of the fact that we are much more than another faceless, impersonal mail order company as we actively participate in most major MVPA affiliate and regional MV Shows and Swap Meet Events. We genuinely share your pride in your restoration and ownership of your Historic Military Vehicles. We know that our products are inspected by the critical eye of our most demanding critic, You, the military vehicle restorer. We don't accept second best on our vehicles, and we know you won't either. You might say that we have a PASSION for getting it right the first time, every time.
All products are exact duplicates of OEM (Original Equipment Manufacturer) items, built to look and last like the originals, save those custom pieces that are commissioned from us from time to time.
THE WAY WE DO BUSINESS
We are a two person operation. This ensures that every piece of our inventory has a personal hands-on quality control inspection before, during, and after construction...
... It also means that we are busier than two long-tailed cats at a clogging convention.
It should be noted that our supplier of Cotton Duck and other products is a major Military Textile Contractor and Manufacturer. We use only Approved, Mil-Spec Textiles, woven,treated and dyed to stringent Government Requirements, to insure that you get the same quality product as specified by Uncle Sam.
CONSTRUCTION DETAILS and PATTERN DEVELOPMENT
We DO NOT SKIMP ON MATERIALS by sewing off-center non-symmetrical seams or by using other questionable construction methods. Our patterns were derived from original drawings and/or original items. We do not merely copy an NOS or Used Surplus Item. Original items are used as a model or reference. Our patterns are developed by using these references in conjunction with our Electronic Pattern Digitizing Station combined with our CADD software system and our 31 years of experience and knowledge with these vehicles. An initial prototype is cut and assembled and fitted to a representative vehicle. Any changes, adjustments and shrinkage allowances are re-entered into the CADD Drawing. Prototype #2 is then built and fitted. We repeat this process until we are completely satisfied with the end result. We are of the belief that our ownership and restoration experience with these vehicles makes us uniquely qualified in the "Hows, Whats and Whys" of Fit and Finish. We view our Swap Meet participation as a mandatory part of our pattern development as we are afforded the opportunity of installing and fitting items on customer vehicles as well as having access to many vehicles that bear our products. This personal interaction insures a consistent Fit and Finish of our products. This active involvement sets us far apart from suppliers that are not MV owners/restorers or hobbyists.
We hope this has answered many of your questions. We invite you to compare cost and quality and join the ranks of our many satisfied customers.
Dave and Donna Pizzoferrato
As an example of our Hands On Commitment to Quality, Click Here to view our Award Winning M170 Restoration.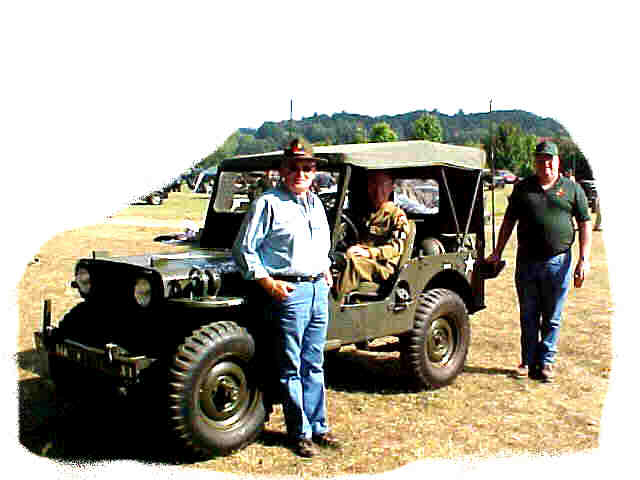 "A Few of Our Good Friends from the Georgia MVPA"